Alibaba's New Manufacturing plan, Chinese factory labor shortage, same-day shipping, building domestic manufacturing and a greener supply chain in this week's roundup.
Best in Manufacturing – December 23, 2018
Each Sunday, we publish a list of top articles and other content related to manufacturing in areas like quality control, product development, supply chain management, sourcing, auditing and law.
1. Alibaba's "New Manufacturing" plan aims to revolutionize garment production
Cheaper labor and improved infrastructure in ASEAN countries are restructuring China's clothing manufacturing industry. And the country is quickly losing a competitive edge as the world's biggest clothing exporter.
In a bid to reclaim lost ground, China is moving away from its claim to fame as a low-cost manufacturing destination and is building a new manufacturing image.
And major players in China's textile industry are turning to the country's tech giants for help setting a new standard for production.
Working alongside the government's "Made in China 2025" initiative, Alibaba is rolling out a "New Manufacturing" initiative. This plan aims to upgrade garment production processes with AI and cloud computing.
As the country shifts towards skilled labor and value-added manufacturing, companies that are ahead of the curve are poised to set future standards.
Plan focuses on increased supplier transparency
By the end of 2018, Tao Factory, the supply chain management subsidiary of Alibaba, will upgrade 200 traditional garment factories in partnership with Alibaba Cloud.
They're hoping to increase transparency in the production process using artificial intelligence (AI) and cloud computing.
As part of the upgrade process, cameras are installed in production areas, which capture factory worker movements as they make clothes and send the footage to a server. Then the server:
Converts the movements into data using gesture recognition technology
Calculates the amount of clothing items made based on the data
Sends the data to Alibaba Cloud
With Alibaba's app DingTalk, customers and factory management can access real-time updates on order status and estimated completion date via Alibaba Cloud.
According to Wu Jianfeng, the factory manager at Banzuo Garment Manufacturing Inc., one of 20 garment factories that have already partnered with Alibaba:
It's like building a virtual factory. I can see everything happening in the factory in an app.
Small vendors stand to benefit the most
Alibaba's initiative is especially beneficial for small-scale vendors who struggle to find suppliers willing to manufacture small-quantity orders.
When a vendor wants to place a new order using this system:
They let Alibaba know about the product
Their requirements go into Alibaba Cloud
Cloud finds the most suitable factory for the vendor's needs
Factory sends real-time updates to the vendor
Final products are sent to the vendor
If a product is successful, the vendor can immediately contact manufacturers and scale up. And if a product fails, the vendor can quickly withdraw it.
But there are still concerns over the security risk presented by such a concentrated system. These include fears over:
Increased hacking susceptibility of vast amounts of data
Tech giants consolidating power and pushing out traditional manufacturers
Alibaba's plan is in the early stages. While a few major players in the industry are rolling out similar schemes, those that are successful will set the new standards of AI and cloud integration for manufacturing.
Follow the link below to continue reading about Alibaba's New Manufacturing plan.
Saving Stitches: Alibaba's Clothing Revolution – Xue Yujie, Sixth Tone
2. Chinese factories struggle to meet demand amid labor shortage
Recruitment ads don the entrance of almost every factory lining the wide streets in Yueqing City's economic development zone.
Yueqing lies in the eastern Chinese province of Zhejiang. It's a popular location for producers of electrical equipment and is home to dozens of factories.
But the ads—some looking for 50 or more workers—are a telltale sign of issues in the region. Factories are struggling to find labor. There's a shrinking workforce and fierce competition for what remains.
The U.S. trade dispute and slowing economy have given Chinese manufacturers a lot to worry about. But a growing labor shortage is adding new stress to the pile.
Decline of working age population
China's workforce peaked in 2011 at 941 million. And since then, it's been on a steady decline.
According to China's National Bureau of Statistics, the current working age population is 916 million.
This may seem like a strong workforce. But from 2012 to 2017, the workforce decreased by 25 million—the equivalent of Australia's entire population.
In 2015, the Chinese government relaxed it's one-child policy to rectify its aging population.
According to Yao Meixiong, the deputy head of Fujian Province's Center for Population Census, this policy contributed to the current labor shortage.
Despite the relaxed policy, a baby bump has yet to materialize. But without a population boost, it'll be hard to increase the labor supply.
Factories competing with employee incentives and wages
Left with few options, manufacturers are increasing benefits and wages as they vie for available labor.
When Denggao Electric's (DGG) assistant general manager Zhang Wei moved to Yueqing City 15 years ago, he said companies provided few benefits to employees. But now:
Firms have so many benefits that I can't list them all without looking at an employment contract.
Employees at DGG, which produces parts for China's power plants, electrical grid and railways, receive benefits ranging from education subsidies to company-led vacation trips and cash gifts for weddings.
And in the past five years, DGG has raised salaries up to 30 percent a year in a desperate attempt to attract workers.
But boosting incentives and wages isn't necessarily enough. And according to Li Lihua, owner of the Huade High Voltage Electric plant, retaining existing workers is just as hard as luring new ones.
Li says that many workers will leave every year, with as many as half not returning to work after the Lunar New Year holiday.
Li has 50 employees but says he needs a dozen more to keep up with demand.
Factories are already grappling with high raw material costs, rising rents and stricter environmental regulations. Will the labor shortage be the final nail in the coffin?
Follow the link below to read more about China's factory labor shortage.
What worries China's manufacturers more than tariffs? Labor shortages – Jennifer Park, Marketplace
3. Same-day shipping may become the ecommerce norm
Worldwide growth of ecommerce sales is predicted to reach $4.878 trillion by 2021. That's up 265 percent from 2014.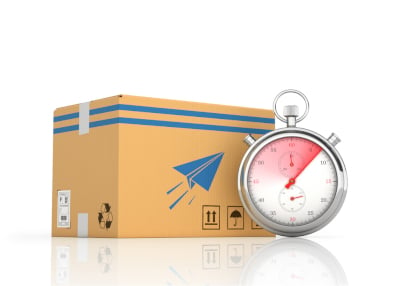 Ecommerce is revolutionizing the shopping industry. But many consumers still prefer to shop in-person, rather than online.
Technology is allowing sellers to enhance the online retail experience in unprecedented ways. But a distinct line remains between ecommerce and brick-and-mortar markets.
Brick-and-mortar stores can provide a tactile experience with on-site, educated specialists and same-day services.
So why wait days for a package to arrive when you can pop into a store and grab it now?
As online brands struggle to provide a premier experience, shipping and delivery will become a main factor in determining which businesses meet their KPIs.
Consumers demand same-day shipping
Amazon accounts for 49 percent of the U.S. ecommerce market. And according to Marketing Charts, the number one reason people shop on Amazon is the free shipping.
The ecommerce giant offers thousands of items available for next-day delivery and some even within a few hours.
Many brands already offer next-day delivery, but same-day delivery will likely become the norm in the next few years. A recent Zebra Technologies study predicts that 40 percent of parcels will be delivered within two hours by 2028.
While quick delivery can boost sales, 77 percent of warehouses said delivering products on the same day is their biggest challenge.
But the accelerated growth of drones and robots may ease this strain.
Various legislation is making it difficult for companies to build fully functional drone delivery systems. But companies continue to experiment, and eventual implementation is likely.
Speed is key to a better delivery experience
Consumers are expecting a quicker and better overall service when it comes to online shopping. And delivery speed plays a major role in their purchasing decision.
Pick up, pack and ship companies—which act almost like a personal courier service between the retailer and the customer—are growing in popularity.
They enable ecommerce businesses, especially smaller ones, to provide same-day delivery services.
But those who don't want to outsource logistics can still improve delivery speed by optimizing their root plan.
According to WorkWave, a cloud-based field service and fleet management company, you can increase delivery efficiency by paying attention to:
Order priorities – What's low priority, can handle a "serve by" date or needs immediate attention?
Transparent and firm time commitments – Account for time windows
Leverage your drivers' input – Ask about traffic pockets and utilize any area-specific knowledge
Brick and mortar may be the preferred retail experience for now. But at the end of the day, the only benefits that matter are the ones sought by consumers.
Regardless of platform, the key to retail success is building the experience around your consumer.
Follow the link below for more ecommerce delivery trends.
Three Future Delivery Trends We are Likely to See in E-commerce – Josh Wardini, MarTech Advisor
4. Tariffs aren't enough to build domestic manufacturing
Everyone's talking about the trade truce at the G20 summit.
The outcome may have taken the edge off tensions for businesses and manufacturers connected to China. But despite this progress, anxieties remain.
Tariff increases are stalled for now. But if there's one constant of this trade war, it's volatility.
Daily headlines tout company announcements of plans to move production out of China. And the pressure to manufacture in the U.S. is growing. President Trump wants a U.S. manufacturing renaissance, as many have been forced to reexamine supply chains.
But manufacturing in the U.S. isn't all it's cracked up to be. Labor, infrastructure and component sourcing present major hurdles for domestic production.
Working with a domestic factory may give you the right to label a product "Made in the U.S." But what does that really mean and at what cost?
Domestic manufacturing isn't wholly "American"
One of the arguments in favor of domestic manufacturing is that it'll create jobs for American citizens.
According to Nichole MacDonald, who manufactures women's handbags in India, this assumption is far from reality.
After receiving backlash for manufacturing overseas, MacDonald began to question if domestic manufacturing can actually "Make America Manufacture Again."
MacDonald said it doesn't matter if you manufacture in the U.S. or overseas:
I have manufactured in the United States, and the factories — and the people working in them — look exactly the same. The workers are from Korea, Mexico, China… it depends on where the factory owner is from.
The U.S. textile industry employs one of the largest shares of immigrants among all industries—36 percent of U.S. textile workers are immigrants.
And the machines, supplies and raw materials for domestic production are still usually sourced from China.
U.S. factories aren't inherently the gold standard of ethical production either. Domestic factories have come under fire recently for cutting corners and underpaying workers to meet demand.
A 2016 U.S. Department of Labor investigation found that 77 Los Angeles garment factories paid workers as little as $4 and an average of $7 an hour for 10-hour days.
MacDonald finds it easier to pay a fair wage in India where the cost of living is lower:
The cost of hiring a factory in India to sew a leather handbag, for example, is a fraction of what it costs to hire a similar person in the U.S. who most likely would be an immigrant making a barely livable wage.
Plus, "Made in America" comes at a cost few consumers are willing to pay. Tariffs might force businesses to consider domestic production. But that doesn't mean resources and labor will magically appear.
Follow the link below to read more about the challenges of U.S. production.
Large-Scale Manufacturing In US Not Very Practical – Nichole MacDonald, International Business Times
5. A greener supply chain could increase your profits
A new HSBC survey has revealed a trend of businesses making sustainability changes in their supply chains to improve their bottom lines.
The survey, titled Navigator: Now, next and how for businesses, included more than 8,500 companies in 34 markets.
Almost one third of the companies surveyed plan to make sustainability-related changes to their supply chains over the next year.
What's more, the top two motivations behind these changes were cost effectiveness (84 percent) and improved revenues and financial performance (also 84 percent).
This trend comes at a time of increased pressure from consumers and regulators for brands to implement sustainable practices (see #3).
While supply chains are becoming increasingly complex, new technologies are enabling companies to take control of their supply chains. And there's never been such a forward momentum of investment in sustainable practices.
Transitioning to a more sustainable future can help brands remain competitive and, ultimately, increase profits.
Why companies are paying closer attention to sustainability
According to the survey, transparency is a key criterion for more than a quarter of companies when seeking new suppliers.
Consumers want to know where the products they're buying come from and how those suppliers treat people, animals and the environment.
Eighty-five percent of businesses surveyed said they want to achieve a sustainability standard recognized by their sector or market.
Companies are facing a growing pressure from investors and regulators to disclose their sustainability practices. But current sustainability programs are still voluntary and basic at best.
While strict regulation doesn't yet exist, this drive to meet specific market standards may define future norms.
Sustainable practices and trends often revolve around large, established industries. But according to the survey, players in emerging markets are also taking note.
Twenty-one percent of businesses in emerging markets plan to make standard improvements over the next two years, compared to just 15 percent in developed markets.
If supply chain managers want to remain competitive, they'll have to prove they can meet high sustainability standards.
Follow the link below to read more about the survey's findings.
New Research Indicates Greener Supply Chains Mean More Profit – Patrick Burnson, Supply Chain Management Review
---
We're constantly scanning the web for top manufacturing stories and news. If you'd like to submit an article for consideration for our weekly Best in Manufacturing, send us a message and let us know.