Importers should expect Chinese New Year to disrupt their supply chain for at least a month, as workers leave early and factories require time after the holiday to ramp up production again.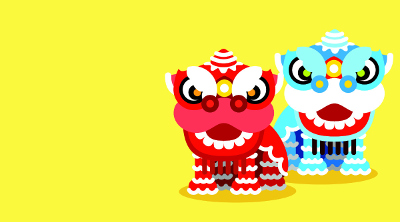 What is Chinese New Year and how does it affect manufacturing products in China? What kind of delays should you expect if you're importing from China during this time? And how can you minimize your risk of receiving your goods weeks or months late and in poor condition?
Chinese New Year (CNY), also called Lunar New Year or Spring Festival, is China's longest and most celebrated holiday. And it has a huge impact on all sectors of commerce in China, not least of which is manufacturing.
Most migrant workers return to their hometowns during the holiday to visit their families after a year of hard work. Chinese New Year is considered the world's largest annual human migration—almost 400 million people travel across China to join their families for the holiday.
Much to the chagrin of many importers, most Chinese factories close their doors for one to four weeks during the holiday. Factory sales come to a screeching halt, and Chinese New Year shipping delays often follow.
But the real frustration importers face comes not from their supplier's momentary closure during the holiday. It's the longer-lasting and more disruptive effects of employee turnover that often create more serious problems.
4 Disruptions your importing business will face during Chinese New Year
The Chinese New Year holiday schedule varies each year based on the lunar calendar. The dates for the next five years are as follows:
February 5th, 2019
January 25th, 2020
February 12th, 2021
February 1st, 2022
January 22nd, 2023
The official Chinese holiday schedule usually grants workers a full work week (five days) of time off. But you should expect CNY to disrupt your supply chain for at least a month, as workers leave early and factories require time after the holiday to ramp up production again.
Here are four disruptions to your supply chain to expect and prepare for this Chinese New Year:
1. Stalled production and Chinese New Year shipping delays
Many employees leave work early before Chinese New Year, perhaps even several weeks in advance. This is due to a practice where some factories allow their workers to accrue overtime throughout the year and take it as paid time off at year's end.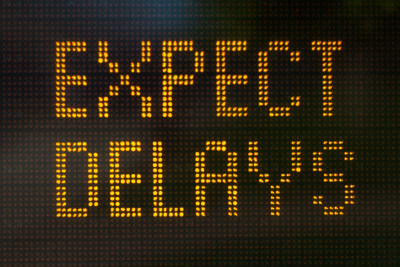 You can expect production slowdowns in the weeks before the holiday if your supplier is understaffed. And in many cases, suppliers won't inform you of this problem until it's too late. You're virtually guaranteed to face Chinese New Year shipping delays if your goods don't leave the factory before it closes.
As an importer, your risk for production delays also significantly increases if your supplier relies on sub-suppliers for key materials or components.
Does your supplier source materials from elsewhere? Does your product contain custom parts that require a lot of manual labor to manufacture? This reliance on sub-suppliers and labor puts your supply chain at particular risk for Chinese New Year shipping delays.
2. Rushed production and increased quality issues
Chinese suppliers kick into high gear as the New Year approaches. The factories rush to finish and ship as many orders as possible before losing too many workers or officially closing for the holiday.
This pre-holiday rush can cause serious lapses in product quality as factory owners rush production, line workers relax quality standards and reworking defective goods becomes impossible.
All these factors can contribute to more quality defects in your goods as Chinese New Year approaches. You should be extra vigilant in the weeks leading up to CNY to ensure your goods meet your standards before they leave the factory.
3. Logistical difficulties close to CNY
China's entire transportation system is strained nearly to its limits during Chinese New Year. You may experience problems with container and truck availability if you're planning to ship goods around the holiday period.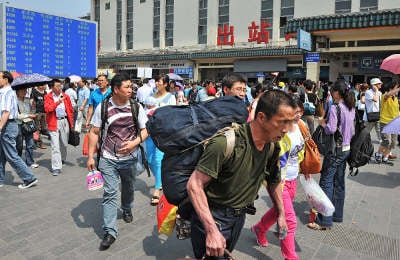 International ports do stay open for most of this period. But be sure you liaise with your supplier and freight forwarder or other logistics partner to ensure your goods will reach the ports in time to arrive at their final destination as planned.
And do not make plans to visit your supplier during this period. Aside from your supplier likely closing for the holiday, China's trains, roads and airports are all overcrowded during this time. Most passenger train and domestic flight tickets sell out well in advance of the holiday.
4. Factory worker turnover
As the longest and most significant holiday observed in China, CNY is the only time of the year during which many migrant workers will be able to spend time with their families. This is why factory workers return to their hometowns in droves during this period.
But many workers also won't return to their jobs after the holiday. It's common for workers in China to stay on until Chinese New Year to receive a yearly bonus. But many of them then head home and never return to the factory.
Over a third of respondents to a Hays 2014 survey said their organization's staff turnover rate was higher around the Chinese New Year period as compared with other months.
As a result, inexperienced or underqualified workers are often promoted to fill the roles of those who have left. And this is not limited to rank-and-file assembly line workers—it can even extend to managers and integral QC staff.
Expect many of the employees making your products in Chinese factories after CNY will lack relevant experience. So you may see a sudden drop in quality as skilled workers leave and new and inexperienced workers take their place.
How can quality change so drastically? Unsophisticated factories generally: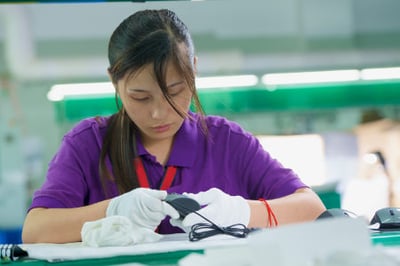 Lack clearly documented procedures and quality standards and
Fail to provide training to encourage staff to follow quality procedures
Chinese suppliers often rely on the skill and experience of individual workers, rather than formalized documentation and training. This means you may actually see quality improve as workers gain experience and knowledge about your quality expectations.
But the opposite is also true—you're likely to see quality decline as new workers with little experience join production lines. Quality expectations may not be effectively communicated to new staff when they join, leading to a difficult Chinese New Year transition.
How to survive Chinese New Year shipping delays and disruptions
As you can now imagine, Chinese New Year causes major headaches for foreign buyers and importers sourcing products in China.
The good news is you can minimize the negative effects of this holiday on your operations with a little preparation. Here are our top tips on how to survive the Chinese New Year slowdown:
Increase inventory levels to protect yourself from disruptions
First, you'll want to increase your safety stock of products to account for the factory's impending downtime.
Increase the order quantities on your last few orders that will ship before Chinese New Year. Padding your inventory before the holiday will also help you avoid potential backorders if post-holiday production is delayed or affected by serious quality issues.
And plan out and place your orders for after the holiday in advance. Placing these orders in advance gives your supplier ample time to recruit and train more workers and plan any raw materials and components purchases.
Above all, talk to your supplier about their CNY schedule. Ask the factory manager about their plans to limit the negative impact of the holiday on production.
Don't skip quality control inspections
Stepping up your quality control around Chinese New Year is essential. Unfortunately, many importers are convinced by their suppliers to actually forgo product inspections before the holiday to ensure their products will ship on time.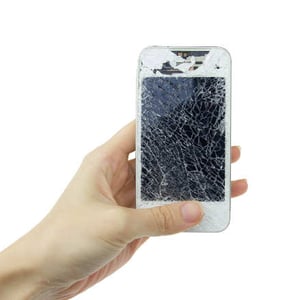 Allowing your quality control to be subverted during this time can be disastrous for your supply chain. If you wait too late to manage product quality, you might face the difficult choice between suffering a Chinese New Year shipping delay or shipping defective products.
If you're facing a tight deadline, consider performing during production (DUPRO) inspections to limit product defects that appear later in the finished goods.
Pre-shipment inspection can often only be performed within 24-48 hours of the ship date leading up to Chinese New Year. This hardly leaves enough time for you to review inspection results, let alone rework products before shipment.
DUPRO inspections will give you actionable information about the quality of your order while there's still time to take any corrective actions needed. Conducting a DUPRO inspection earlier in production will help you identify quality issues and correct them before they affect a large portion of your order.
Work with suppliers you can trust
Always work with suppliers that take quality seriously, appear stable and have an established management system you can trust.
A supplier with a robust quality management system will fare much better during the Chinese New Year transition than one that blindly relies on the experience of its factory workers. And a factory with financial troubles or legal issues is more likely to close permanently during the Chinese New Year period.
It's probably best to avoid the risk of working with a new supplier shortly before CNY. You're better off waiting until after the holiday to verify their capabilities during a period of relative stability.
Conducting a quality audit on your supplier is one way to verify a supplier's legitimacy and their quality management system.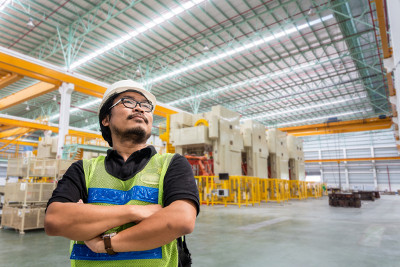 Quality audits can help you verify key facts about a supplier, including:
Business licenses, facility size and current production flow
Basic facilities, environment and equipment maintenance procedures
Incoming, during and pre-shipment internal quality controls
Quality audit reports provide you with information to limit your supplier risk and protect your supply chain from disruptions during Chinese New Year—and all year round.
Conclusion
Chinese New Year is a busy time for everyone in China. Travelers, importers and factories all face delays and headaches during this frenzied period.
If you're manufacturing goods in China during this time, minimize your delays and maximize quality by:
Stocking up on inventory to avoid a shortage during CNY
Planning out your orders for after the holiday and establishing deadlines with suppliers in advance
Talking with your supplier about measures they plan to take to protect their production; and
Conducting product inspection of your orders to ensure the finished product meets the quality standards you paid for
Although no supply chain is perfectly risk-free, just a bit of preparation can strengthen your supply chain and help you prevent Chinese New Year disruptions.
---
How are you preparing for the Chinese New Year slowdown? Share your tips in the comment section below!