Failure to meet packaging regulations can really hurt your ability to successfully import and distribute your products. Discover what these requirements are and how to avoid problems by ensuring your products comply with them.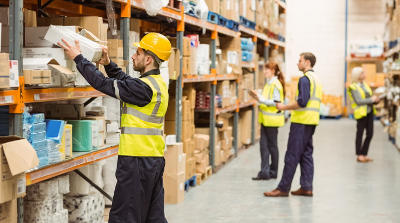 Did you know, as an importer, you can actually be fined or criminally convicted for failure to follow legal regulations related to their product and packaging that endangers the end customer?
Packaging, in particular, might be a forgotten element of manufacturing and legal requirements for some importers. But fear not. You can easily check for compliance with legal regulations during packaging inspection and testing (related: Packaging Inspection Guideline [eBook]). And inspection pays off by helping you avoid delays in processing at customs and distribution centers, as well as preventing legal repercussions.
You might be far more concerned with market demand, product design and profit as an importer. But retailers typically expect importers to have already considered all legal requirements applicable to products by the time they receive them. And most overseas suppliers rely on importers to notify them of legal regulations in the market of sale, rather than proactively following regulations themselves.
You probably don't have a dedicated legal team looking into legal regulations for you, especially if you're a small or medium-sized business. So let's take a look at packaging regulations and retailer requirements in major markets and how to ensure compliance through packaging inspection.
Polybag suffocation warning regulations
You've probably seen suffocation warnings printed on the plastic bags for products you've bought before. Aside from protecting consumers, a proper suffocation warning is also important to limit the liability of your company if an accident occurs.
The U.S. actually has no federal regulation requiring suffocation warnings on polybags. But five states and two cities require suffocation warnings, namely California, Massachusetts, New York, Rhode Island, Virginia, New York City and Chicago. There is also no legal requirement for labeling of polybags in Europe. However, nearly all products sold have such warnings on applicable polybags, since warnings are a condition of supply for many large retailers.
Which polybags are included in regulations?
Given the number of different laws and retailer requirements, it can be difficult to determine if suffocation warnings are required on your packaging. Let's take a look at the most applicable requirements:
All state and city requirements for suffocation warning apply to plastic bags with a thickness of less than one mil (1/1,000) inch. This is because thin plastic is more flexible and can easily cling to and form an airtight seal around a child's nose and mouth.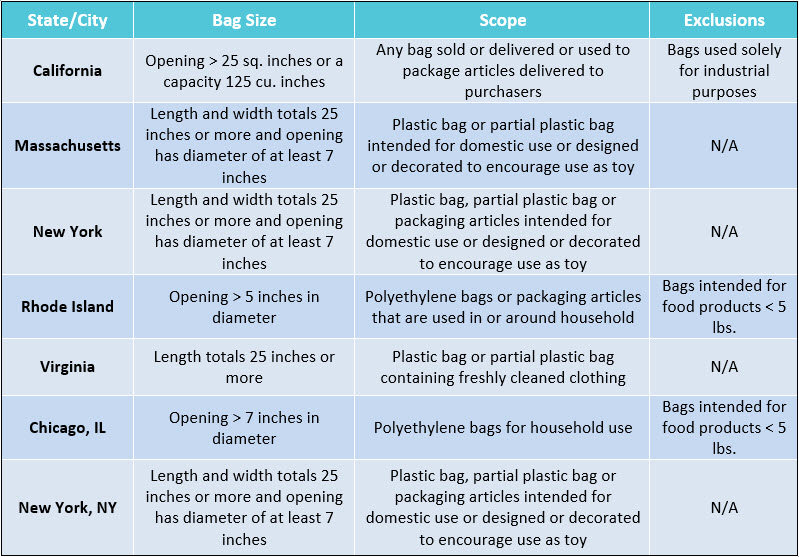 Retailers typically outline suffocation warning requirements in their vendor agreements or packaging guides. Some examples of retailer packaging requirements include:
A suffocation warning is not normally required for toys in the U.S. because the polybag must actually meet requirements for a thicker plastic material that is safe for small children (see ASTM F 963-16 4.12). After all, small children can't read a suffocation warning! However, Canada does still require suffocation warnings for all polybags for toys, and the warning must be printed in both English and French.
What should be included in the suffocation warning?
Regulations governing the specific language suggested or required for the label can vary slightly, but the following language complies with all regulations in English:
Warning: To avoid danger of suffocation, keep this plastic bag away from babies and children. Do not use this bag in cribs, beds, carriages, or playpens. This bag is not a toy.
The warning also has to comply with size requirements, to ensure the warning is clear and easy to read. The following table shows minimum print sizes for this warning based on various polybag sizes:

The warning can be either printed on a label affixed to the polybag or printed directly on the polybag. Regardless of method, the warning must be conspicuous in its color and layout on the bag so that the consumer can clearly see the warning.
Penalties for noncompliant warning labels
If you fail to comply with these legal requirements, you may face a misdemeanor or fine varying by state. For example, Massachusetts rules that whoever violates any provision of the state's regulation (105 CMR 630.000) faces a maximum fine of $100 for the first offense and $500 for any subsequent offense. In Chicago, similar violations carry a fine of $200 for each offense (see Municipal Code, c. 7-28-050).
While you might think criminal charges are unlikely to affect you personally, penalties for noncompliance from your retailer are certainly highly likely. For instance, Walmart charges a $200 admin fee plus $1 per unit of labeling work required at their distribution center when their suppliers violate their Supplier Packaging and Labeling Manual.
How packaging inspection helps you ensure compliance with suffocation warning regulations
When it comes to ensuring compliance, you should always check ahead for applicable legal requirements before placing an order. This way you can provide necessary warning labels to your supplier and factor necessary packaging quality control and packaging testing into your production timeline.
Once you've determined the requirements you need to follow, pre-shipment inspection can help you check compliance before shipping. An inspector visiting the factory can report on labeling to ensure your product packaging doesn't violate requirements.
An effective QC checklist, which guides your supplier during production and QC staff during inspection, should include the following points: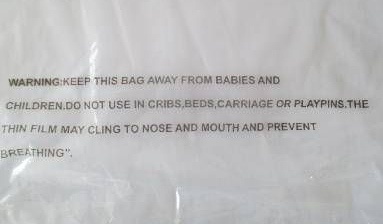 The applicable suffocation warning label for packaging, along with the warning language and printing requirements, for your supplier and inspector's reference; and
How to classify a missing or incorrect warning label as a defect in inspection reporting (related: 3 Types of Quality Defects in Different Products)
Because improper warning labels can be a serious issue, importers often classify these as "critical defects" during inspection. Critical defects are defects that put the end customer at risk or otherwise render the item unusable. A single critical defect found in an order typically results in the whole order failing inspection, often requiring corrective action and re-inspection before shipping. If you do try to sell a product that endangers consumers, you're taking a huge risk in terms of your business' liability and reputation.
Any issue with the language or printing of the warning will likely occur on all of your products or none at all, as suffocation warnings are mass printed either on the polybag or on a label affixed to the polybag. So a packaging inspection of just a sample of your goods is normally adequate for checking this issue.
Toxics in packaging materials regulations
The Model Toxics in Packaging Legislation was developed in 1989 and aims to minimize the adverse impact of toxic elements in packaging on the environment and public health. This legislation establishes consistent requirements for the reduction and elimination of four heavy metals, namely cadmium, lead, mercury, and hexavalent chromium in packaging sold or distributed in the U.S. Maintained by the Toxics in Packaging Clearinghouse (TPCH), the legislation has been adopted by 19 states so far.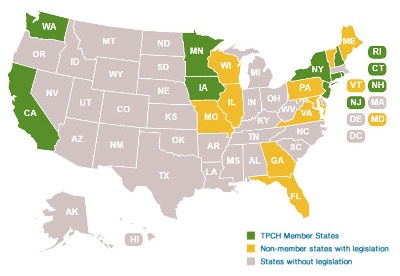 Like suffocation warning requirements, many retailers will also require compliance with this if you want to supply products through their distribution network. All state laws include the basic requirements of:
No intentional use of any amount of the 4 restricted metals (lead, mercury, cadmium and hexavalent chromium) in packaging materials.
A threshold level of 100 ppm by weight for incidental use of the total of the four metals combined in packaging materials.
These requirements are applicable for all product retail packaging and exterior packaging materials, like intermediate cartons and shipping cartons. You might be wondering where heavy metals are commonly found in packaging materials. Importers manufacturing in Asia might be at particularly high risk of using noncompliant packaging materials, as shown from the following:
Over 80 percent of packaging for home furnishing products exceeded lead and cadmium limits in a 2007 TPCH study. The metals were mostly found in flexible PVC resin bags commonly used to package products, like curtains and bedding, and imported from Asia.
39 percent of the flexible PVC packaging samples failed a screening test for cadmium in a 2010 study. All the failed packaging samples were imported, with most coming from China.
19 percent of wine bottles tested exceeded allowable levels of lead in a 2014 TPCH screening.
Penalties for noncompliant packaging materials
All manufacturers, suppliers, product manufacturers and distributors of packaging and packaging components are held accountable to the regulation. As an importer, that means you, too.
Noncompliance with TPCH will result in penalties or fines which can vary by state. While the penalties for suffocation warnings are rather low, they can be quite high for toxics in packaging materials. California has the highest penalties, where you might face a maximum fine of $25,000 per violation or criminal imprisonment for up to 3 years. And California considers each subsequent day to be a separate violation, so the fines can add up fast if you don't act quickly.
Noncompliance with toxics in packaging regulations can happen to both small, periodic importers as well as major brands. For example, after TPCH packaging testing discovered cadmium levels in the packaging of several PetSmart products exceeded the acceptable threshold, PetSmart had to pay the State of New Hampshire a $15,000 settlement.
How packaging testing helps you ensure compliance with toxics in packaging regulations
It can be time consuming and costly for suppliers to ensure packaging meets regulations. So there's always the risk of suppliers using packaging with toxic chemicals without your knowledge. And many suppliers using sub-suppliers for packaging might partner with cheaper suppliers that use questionable packaging materials.
Simply stating in your contract or PO that your supplier should be in compliance with legal regulations might not be sufficient. Periodically performing packaging testing provides you with the most transparency into your product packaging. The main steps you can take to protect yourself and ensure compliance are:
Arrange lab testing to check chemical composition of your packaging. You can contact a lab directly or coordinate through a third-party inspection company to arrange lab testing for you.
Ask your supplier to prepare a Certificate of Compliance if lab results verify the level of chemicals are within the allowable threshold. The certificate should be readily available to submit within 60 days of a request.
If you receive a lab test result stating chemical levels are above the acceptable threshold, you'll need to ask your supplier to replace your packaging. Then you'll need to conduct packaging testing again to ensure the problem is corrected and obtain the Certificate of Compliance.
Conclusion
The legal requirements for polybag suffocation warnings and toxics in packaging materials are two of the most common regulations importers face regarding packaging. But these aren't the only legal requirements you need to follow for your product (related: How to Comply with Legal Requirements for Clothing Labeling). You may need to research solutions and seek legal consul for legal requirements in your market of sale that are more complicated or difficult to address.
Including these packaging requirements in your QC checklist is definitely a helpful way to prevent and identify any errors with packaging before shipping (related: 5 Essentials of a QC Checklist [eBook]). If you wait until you receive the shipment to check for compliance issues, it might be too late or too expensive to fix any problems yourself.
---
What steps do you take to ensure your product is in compliance with legal regulations? Let us know in the comment section below!