Why would you want to spend time and money inspecting a product before it's finished? You can't possibly know anything about the quality of a product you're manufacturing until you see the finished product. Right?...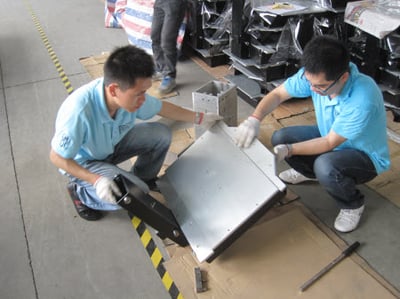 Why would you want to spend time and money inspecting a product before it's finished? You can't possibly know anything about the quality of a product you're manufacturing until you see the finished product. Right?
Well, not exactly. An interesting article published in Wired yesterday followed a PhD student from MIT who has been studying stress sensor technology and its potential applications. One such application was trying to draw a link between the data collected on human behavior and designing better products. Essentially, test subjects were given products to use while wearing sensors and researchers studied the stress readings picked up by the sensors to determine where subjects were frustrated or dissatisfied with the products.
Many researchers believe that this kind of real-time data could change the way products are designed and manufactured.
Inspect During Production in REAL-TIME
So what does this have to do with product inspections? We may not yet be able to harness the true power of sensors to design the best products possible, but we can be sure that the products we're already manufacturing are being produced the way we've designed them to be. If we inspect products during production, we can discover any inconsistencies, defects or other irregularities well before the products are packaged and ready to ship (How Experienced Importers Limit Defects in 3 Stages [eBook]).
Why is this so crucial? During production, or "DUPRO" inspections, are so important because by inspecting products during the various processes of manufacturing we can pinpoint problems and effectively "nip them in the bud" before they move any further down the production line. On the other hand, if we wait until products are packed and ready to ship before conducting a final inspection, sure, we may find plenty of issues with the order, but it may be too late to fix them (related: 4 Ways to Address Product Defects Found During QC Inspection).
The Shoe Dilemma
Let's look at a realistic example to illustrate the point. Assume that you've designed a new type of shoe made of Ehtylene Vinyl Acetate (EVA). You send you're design to a supplier in China, and the supplier sends you a sample that matches your design and specifications perfectly. You are psyched! You line up a distribution channel and find retailers who share your enthusiasm and want to stock your cool new footwear. You place an order with your new supplier to have 20,000 pairs of shoes made. Part of the manufacturing process might look something like what is pictured below.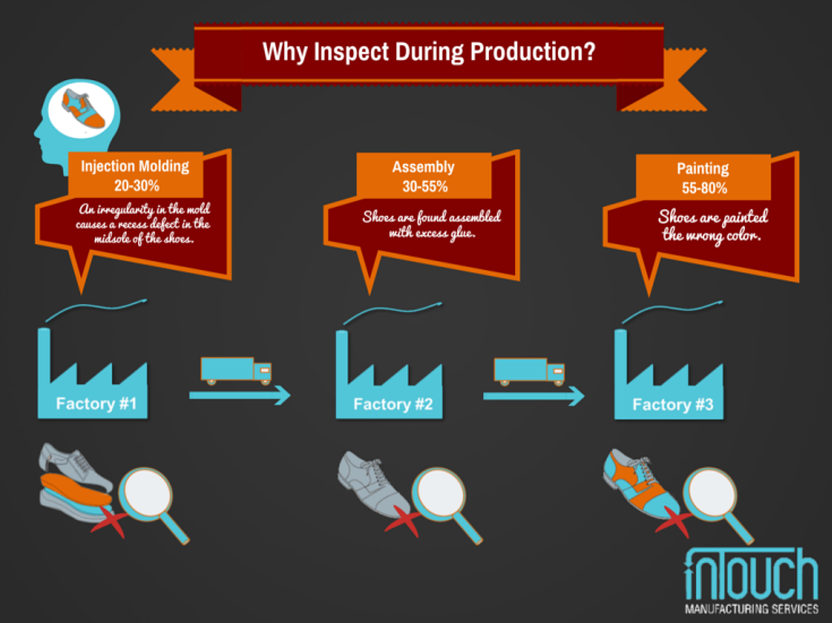 There are several manufacturing processes involved in manufacturing your shoe - injection molding, assembly, painting and others among them. But one facet of manufacturing you may not have anticipated - one your supplier didn't inform you of before placing your first order - is the fact that the factory you've signed with doesn't carry out all the processes of manufacturing on their own. Rather, your supplier is contracting out two processes, injection molding and painting, to other factories in the same province.
Luckily, this isn't your first time manufacturing products in China and you've had the foresight to hire a third-party QC company to visit your supplier and inspect the goods on your behalf. Unfortunately, you've decided only to have inspections carried out at the packaging stage of production just 2 days before shipping.
Your inspection company visits the factory that sorts and packages the shoes and what they report to you is disastrous. Not only is the product packaging not what you anticipated, but there are problems related to three other major stages of production! A problem with the mold used for one of the items has led to a noticeable recess in all of the shoes of that style in the order. Many of the shoes in the order are found with excess glue between the midsole and outer sole, and it can't be removed. Lastly, all of the shoes of one style have been painted the wrong color!
Now you're in some serious dire straits. You've got a defective order that is scheduled to be loaded into containers for shipping in the next 48 hours; you don't have time to ask the supplier to send the shoes back to the two other factories and rework them. And what about your customers, all those retailers that were enamored with your product and can't wait for it to hit their store shelves just in time for Black Friday? They're in for real disappointment because the shoes will either arrive in poor condition or too late.
The Solution is in the Lead Time
You've seen the clear drawbacks of conducting a product inspection only at the final pre-shipment stage. So let's take a look at the same scenario again, but this time you've chosen to inspect during production.
Since injection molding is a major production process, you've asked your trusted QC partner to go to the responsible factory and inspect. During inspection, they discover the recess defect related to one of the items and identify the mold that's causing the problem. The factory reworks the mold and the effected shoes and the problem is solved.
Likewise, you send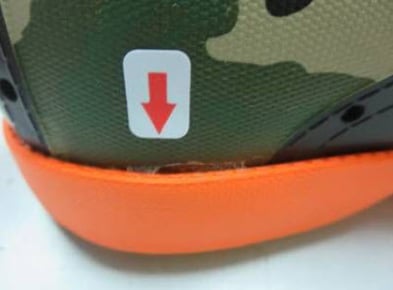 your QC partner to inspect during production at the assembly phase, another key stage. They quickly identify the excess glue on the midsole and alert the factory, which is able to control the process to prevent further problems.
Finally, your QC partner visits the third factory responsible for painting, and it doesn't take long before they realize the factory has been using an outdated spec sheet for guidance. The factory is able to repaint the shoes to meet the correct artwork specifications, on which you've now updated them.
You carry out one last inspection prior to shipment just to be sure that packaging is being done correctly and that the whole order will ship on-time and as promised. You see the final QC report, give the OK to ship, and your products have left the factory as scheduled.
Your supplier is happy because they've actually improved their own processes due to your inspections. Your customers are happy because they got the same great shoes you pitched them from your catalog, and they got them in time for the holiday shopping season. Most importantly, you're happy because you were able to manufacture the product you spent so much time and energy designing and your professional QC firm that was able to be your ear to the ground and remove the headaches by inspecting quality on your behalf (related: How Quality Control Inspection Helps Importers Detect Product Defects).
---
Learn more about how during production inspection can help prevent quality defects in your shipment by checking out our eBook below!