Toys are commonly recalled for noncompliance with the EC Toy Safety Directive and EN 71 requirements. Check out these toy tests to verify your supplier's goods and protect your business from liability.

If you closely follow the European toy industry, you'll know toys are commonly recalled for noncompliance with the EC Toy Safety Directive and EN 71 requirements.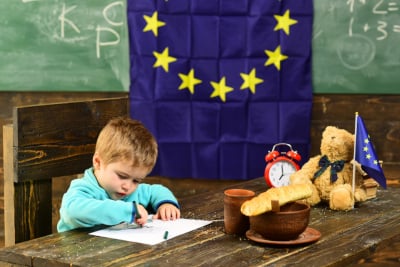 Just a quick look at the EU's Rapid Alert System (RAPEX) recent recall listings reveals:
Stuffed animals from China noncompliant with the EN 71-1 standard due to small sequin parts that pose a choking hazard
Costume masks from China noncompliant with EN 71-2 due to posing a burn hazard
Toy slime products from Taiwan noncompliant with EN 71-3 due to exceeding the migration limit for boron, an element which can cause stomach, liver, kidney and other health problems
Compliance with EN 71 testing requirements is mandatory for importing toys into the EU. EN 71 specifies testing methods for assessing toy design, durability and safety for compliance with the EC Toy Safety Directive.
But many foreign manufacturers are unaware of EU toy safety requirements, which if you're an importer, puts your business at risk for noncompliance. Conducting toy testing to EN 71 standards through an accredited third-party laboratory can help you verify your supplier's goods and protect your business from liability.
Who do EN 71 standards apply to?
There are two terms you should be familiar with if importing toys into the EU: the "EC Toy Safety Directive" and "EN 71".
The EC Toy Safety Directive (2009/48/EC) is a legislative act that sets toy safety targets for all EU countries to achieve. The EN 71 standard sets the official test methods for ensuring compliance with the Directive's requirements. It also includes some labeling requirements for specific toys, like those not intended for children under three years old and aquatic toys.
Toys are defined in EN 71 as "any product or material designed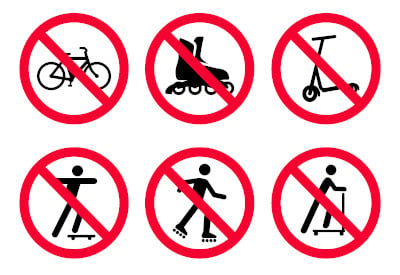 or intended, whether or not exclusively, for use in play by children of less than 14 years". Products not considered toys under the Directive include:
Sporting equipment, including roller skates, inline skates and skateboards intended for children weighing more than 20 kg
Bicycles with a maximum saddle height of more than 435 mm
Collectors' items intended for collectors of 14 years of age and above, such as scale models, decorative dolls and historical replicas of toys
Fashion accessories which are not intended for play
Decorative objects for festivities and celebrations
EN 71 has 14 different parts, which are continually updated. The most recent changes to EN 71-1, EN 71-3, EN 71-7, EN 71-8 and EN 71-14 took effect in February 2019.
Importers' responsibilities under EN 71
All economic operators, meaning the manufacturer, the authorized representative, the importer and the distributor, are responsible for ensuring EN 71 compliance.
Importers, in particular, are responsible under the Toy Safety Directive for:
Ensuring the manufacturer has appropriately assessed conformity before placing a toy on the market
Ensuring the manufacturer has drawn up the required technical documentation, that the toy bears the required conformity marking and is accompanied by the required documentation
Testing samples of marketed toys, when deemed appropriate with regard to the risks presented by each toy
Immediately taking corrective action to bring a noncompliant toy into conformity and to withdraw or recall it, if appro­priate
In many cases, the importer is also considered the manufacturer. You are the manufacturer under the EC Toy Safety Directive if you place your name or trademark on the product. In that case, you will be fully responsible for ensuring compliance with EN 71 and will also be responsible for providing technical documentation for CE marking.
EN 71-1: mechanical and physical properties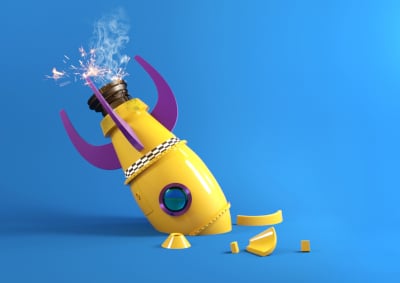 EN 71-1 specifies compliance requirements and testing methods for the mechanical and physical properties of toys. Toys must have the mechanical strength and stability to withstand the stresses of regular use without breaking or causing injury to the end user.
This standard applies to all toys regulated under the EC Toy Safety Directive. Noncompliance with EN 71-1 is one of the most common causes for toy recalls in the EU, as its requirements are the most wide-reaching of all parts of the EN 71 standard.
Some of the main requirements of the EC Toy Safety Directive in relation to EN 71-1 include:
Accessible edges, protrusions, cords, cables and fastenings must be designed to reduce risk of injury
The toy must not present strangulation, choking or asphyxiation risk, most often posed by small parts and packaging
The movement of the toy's parts must not present any risk or only the minimum risk inherent to their use
Toys that emit a sound should not impair children's hearing
The specific testing requirements for your toy will vary based on its design. A third-party laboratory can help you understand how to specifically test your toy product. Some tests under EN 71-1 include:
Torque test
Tension test
Component detachment test
Drop test
Tip over test
Impact test
Compression test
Soaking test
EN 71-2: Flammability
EN 71-2 categorizes prohibited flammable materials in all toys. It also specifies flammability requirements and test methods for certain high-risk toys and children's textiles (related: Flammability Tests for Fabric and Clothing Importers).
Flammable materials forbidden in all toys under EN 71-2 include:
Celluoid (cellulose nitrate), except when used in varnish, paint or glue, or in table tennis balls
Flammable gases
"Extremely flammable liquids", "highly flammable liquids" and "flammable liquids", except those in chemical toys, olfactory board games, cosmetic kits and gustative games
Flammable gels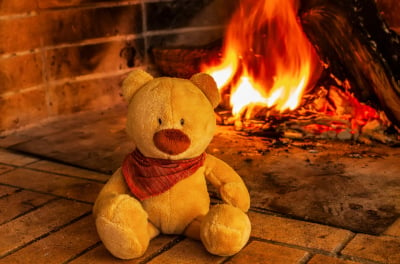 All toys should meet one or more of the following criteria under the EC Toy Safety Directive:
The toy does not burn if directly exposed to a flame, spark or other potential source of fire
The toy is not readily flammable, meaning the flame extinguishes as soon as the fire cause disappears
The toy burns slowly if ignited and the flame spreads at a slow rate
The toy is designed to mechanically delay the combustion process
The child should be able to drop the toy or distance themselves in case of ignition to prevent serious injury.
Toys that pose the greatest fire hazard and which have specific testing requirements under EN 71-2 include:
Toys worn on the head
Toy disguise costumes and toys intended to be worn in play
Toys intended to be entered by a child, like toy tents, puppet theatres and play tunnels
Soft-filled toys, like a teddy bear or a play mat
During the flammability test, a flame is applied to the test specimen and if ignition occurs, the lab technician measures the duration and distance of the flame. The specific EN 71-2 testing methods vary based on the toy's intended use and design.
EN 71-3: Migration of certain elements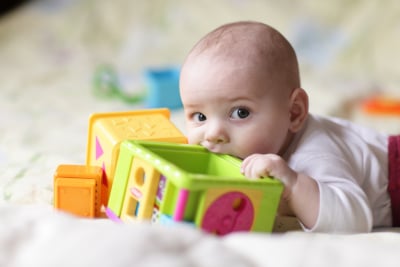 The Toy Safety Directive sets migration limits for 19 heavy metals in toy materials. "Migration" in this context means a chemical leak from the product that could endanger the user.
The purpose of EN 71-3 is to simulate a child's digestion of any part of a toy and identify the risk to the child of exposure to heavy metals.
The EN 71-3 test methods simulate conditions in which the toy material remains in contact with gastric juices for a period after swallowing. This testing extracts soluble elements from the material which can then be measured against the migration limits.
The EN 71-3 test method generally includes:
Immersing the toy material sample in a hydrochloric acid solution that simulates gastric juices
Shaking and agitating the solution
Separating any solid matter from the solution by filtration
Calculating migration of elements based on the concentration of soluble elements remaining in the migration solution
EN 71-3 separates toy materials into three categories, with different requirements for each:
Category I: Dry, brittle, powder like or pliable materials, such as chalk, crayons and compressed paint tablets
Category II: Liquid or sticky materials, such as bubble solution, finger paints, liquid adhesives and slime
Category III: Scraped-off materials, such as hard and soft polymers, wood, textiles, glass and metals
The EN 71-3 migration limits for each of the 19 elements are shown in the table below:
Importers must test each color of each toy material for chemical migration to ensure compliance with EN 71-3.
The number of test samples will therefore vary according to your toy's design—even simple toys can contain up to 20 materials or components. Some importers choose to test just three of the highest risk materials to minimize toy testing costs. But this option doesn't offer as much protection against noncompliance.
Although not included in EN 71-3, the EC Toy Safety Directive also forbids the use of carcinogenic, mutagenic and toxic for reproduction (CMR) substances and 55 allergenic fragrances in toys. Toy importers should also separately test for these substances in their products.
The above three parts are the most common EN 71 standards that are applicable for all toys. But there are also several more parts of EN 71 that are only relevant for specific toys.
EN 71-4 Experimental sets for chemistry and related activities
EN 71-4 applies to experimental sets for chemistry and related activities including crystal growing sets, carbon dioxide generating experimental sets and supplementary sets.
This standard specifies requirements for the maximum amount and in some cases the maximum concentration of certain substances and mixtures used in experimental sets. It also specifies requirements for marking, contents lists, user instructions, eye protection and experiment equipment.
EN 71-5 Chemical toys (sets) other than experimental sets
EN 71-5 specifies requirements and test methods for the substances and materials used in chemical toys other than experimental sets, including:
Plaster of Paris (gypsum) molding sets
Ceramic and vitreous enameling materials supplied in miniature workshop sets
Oven-hardening plasticized PVC modelling clay sets
Plastic molding sets
Embedding sets
Adhesives, paints, lacquers, varnishes, thinners and cleaning agents (solvents), supplied or recommended in model sets
Like EN 71-4, this standard also specifies requirements for markings, warnings, safety rules, contents lists, user instructions and first aid information.
EN 71-7 Finger paints
EN 71-7 specifies requirements for the substances and materials used in finger paints. This standard intends to minimize the risk of prolonged skin contact or possible ingestion of paints. It includes requirements related to preservatives, impurities, migration of certain elements and other attributes.
EN 71-8 Activity toys for domestic use
EN 71-8 specifies requirements and test methods for activity toys for domestic use intended for children under 14 years.
Activity toys are often attached to or incorporate a crossbeam and are intended to bear the weight of one or more children. This standard applies to slides, swings, playhouses, climbing frames and other similar activity toys.
This standard tests the product for risks of head and neck entrapment, stability, static strength and impact.
EN 71-14 Trampolines for domestic use
EN 71-14 specifies requirements and test methods for trampolines for domestic use intended for outdoor and/or indoor use at above-ground level by one person at a time.
This standard sets design requirements for the frame size, frame height and maximum user weight. It also includes testing for head and neck entrapment, sharp edges, impact resistance, strength and stability.
Other relevant toy testing requirements in the EU and U.S.
In the EU, toys might also need to comply with specific directives other than the EC Toy Safety Directive, depending on the toy's characteristics. Some common directives applicable to toys include:
ASTM F963
ASTM F963 is the toy safety standard equivalent to EN 71 in the U.S. The two standards are largely similar, especially after ASTM F963 was revised in 2016 and 2017 to harmonize it further with EN 71.
But there are still some main differences between the two standards, including: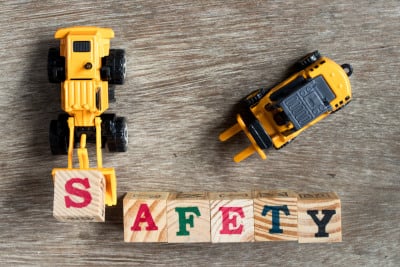 U.S. requirements for migration of heavy metals are less stringent, as only eight heavy metals are analyzed and the migration limits are generally higher
The test parameters of the abuse test (drop, torque, tension, compression) are different between EN 71 and ASTM F963
The test method and parameters are different for some specific toys within the standards, such as ride-on toys, toys containing magnets and toy cords
ASTM F963 compliance requires third-party toy testing by a lab accredited by the Consumer Product Safety Commission (CPSC)
Can importers rely on their factory to conduct EN 71 testing?
There is no requirement for an independent lab to conduct EN 71 testing under the EC Toy Safety Directive, unless the toy is subject to an EC-type examination. EC-type exams require testing by a notified body and might be required for toys not covered in EN 71.
But importers usually rely on accredited third-party laboratories to perform EN 71 testing. The mandatory requirements of this standard, the high level of government oversight and the safety risks associated with toys all make reliable EN 71 testing results essential.
And merely relying on your supplier to conduct EN 71 testing could put your importing business at risk for liability issues related to defective or noncompliant products.
The Toy Safety Directive reads "Manufacturers and importers who have placed noncompliant toys on the Community market are liable for damages". Defective products you've imported might need to be withdrawn from the market, and you might need to bear the cost of the withdrawal, in addition to fines and legal actions (related: Don't Let Your Customer be the One Finding QC Issues in Your Products).
Asian suppliers typically have a limited understanding of Western regulatory requirements and might lack the necessary resources and equipment to test the products they manufacture. They can also be biased in their assessment of their own products compared to an independent lab.
An accredited laboratory can help you understand which parts of EN 71 and the EC Toy Safety Directive you need to test your products to for full compliance. And then they can issue a test report demonstrating your compliance for customs officials or highlight any nonconformances you need to fix before shipment.
Conclusion
In many ways, EN 71 compliance starts well before you ever place a purchase order with your supplier.
You should design your product specifically to be compliant with the EC Toy Safety Directive. Eliminate small parts, heavy metals and other dangerous materials from your product before even beginning production.
Once you're ready to begin mass production, be sure to enlist the help of a third-party accredited laboratory to ensure the safety and compliance of your children's toys. EN 71 testing will ensure your toys bring joy to kids and not headaches to your business.
---
How do you ensure compliance with EN 71 standards and the EC Toy Safety Directive? Share your tips in the comment section below!