The last thing project managers need is more work on their plate. That's why we developed an online quality management system to help you simplify your QC processes and progress towards quality targets.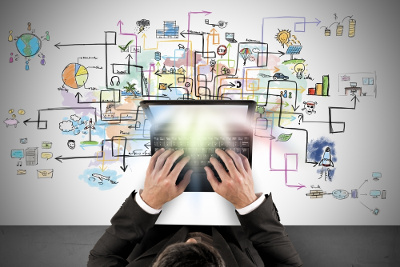 If you're a busy project manager, the last thing you need is extra work on your plate.
But let's say your boss has asked you to find and manage a third-party quality control partner for all your orders in Asia. And they want you to serve as the first point of contact to coordinate projects with the QC provider.
Like many importers, you're already grappling with difficult suppliers and stressful new projects. Critical orders are often delayed by a few weeks and your company could lose customers.
Adding a third-party inspection provider to this chaos might sound daunting. But Asia Quality Focus' online quality management platform actually simplifies quality control for importers (related: How a Convenient Online Platform Simplified Lighting QC for Seynave [case study]).
Asia Quality Focus (AQF) developed AQF Online with busy project managers in mind. And in doing so, we centralize all your QC processes in one online dashboard.
This not only frees up time you might otherwise spend coordinating inspections or audits with your suppliers. It also strengthens your ability to monitor and continuously improve product quality and ensure on-time delivery.
Wouldn't it be nice to worry about one less link in your supply chain? Read on to learn how AQF's online quality management system can make your life easier.
Book QC services instantly and keep orders on schedule
Coordinating an inspection remotely may seem difficult, especially without your own QC team on the ground. And having to communicate across the handful of time zones between you and your supplier doesn't help, either. But that's where AQF can step in and serve as a reliable link in your supply chain.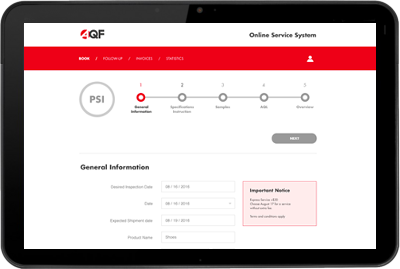 You can log onto AQF's platform and book an inspection in a few simple steps whenever a shipment is ready. You just need to input:
Your supplier's address and contact information, so we can coordinate with them
Your PO or other breakdown of your order quantity per SKU
Your desired inspection sample size, inspection scope and product requirements
AQF's multilingual client support team is always ready to assist if you have questions about using the system, need hands-on support or just want to discuss your expectations with our team directly. You can reach them by email, phone or Skype to ensure your inspection goes off without a hitch.
AQF's coordination team then works quickly to process your bookings and schedule inspections that deliver the insight you need.
How AQF prevents miscommunication with your suppliers
Once our coordination team receives your booking request, they'll act on your behalf to schedule the service. They'll arrange an inspection date per your request or earliest availability and handle all communication with the supplier.
AQF can usually accommodate bookings requested with two working days' notice in our coverage areas.
Especially if communication between your suppliers has ever been a challenge, you'll appreciate the ease of coordinating QC solutions through AQF. Our coordination team—the people who contact your supplier about scheduling—are bilingual in English and Mandarin Chinese.
Nearly every comprehensive inspection partly depends on having the right tools. And communicating who will provide the equipment needed for any on-site testing can be difficult for other QC teams. AQF Online reliably manages this for you and our team to ensure the right equipment is available on site.

In this way, AQF Online streamlines the booking and coordination process so you can be confident we're inspecting your goods in line with your schedule.
Centralize your inspection protocols and requirements
What about ensuring inspection is performed to your requirements?
The last thing you want is for your inspection team to use the wrong protocol, or QC checklist, when inspecting your product. For example, maybe there's a new mandatory labeling requirement for your product. But your inspector uses an old protocol and doesn't know to check for this label during inspection.
When your inspector uses an outdated or incorrect protocol for inspection, you're faced with two undesirable options:
Accepting the goods without a complete assessment of product quality
Sending the inspector back for a second day to re-inspect and potentially delaying the shipment
AQF Online prevents these coordination mistakes by serving as a centralized database for all your inspection protocols. This helps you:
Write the inspection protocol, according to your specifications and international standards
Maintain and revise protocols as your products and quality standards change
Store protocols on AQF Online for each booking and for later reference
How AQF Online ensures goods are inspected to your requirements
Other third-party inspection companies might rely on email, WeChat or other limited file sharing programs to share inspection protocols and details between stakeholders.
It's easy for outdated protocols to survive and miscommunication to thrive without an organized system in place. Your QC documents might be scattered among departments—one colleague might have one protocol, while another colleague has another protocol.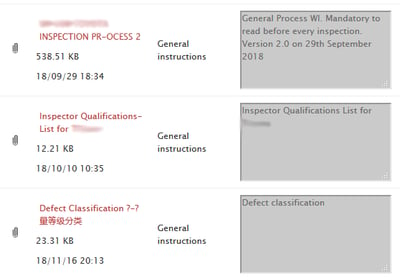 At AQF, all your inspection protocols are shared via our secure, online quality management system to ensure the relevant people always have access to the most current information.
And both you and your inspection team can easily add important details in AQF Online during the booking process, including:
Attaching any existing inspection protocols
Specifying acceptable quality levels
Including any special inspection instructions
These documents and instructions will be viewable for your entire inspection team at AQF when accessing your booking. Your inspector will then reference this information when on site inspecting your products, ensuring the goods are always inspected according to your requirements.
Access and download quality control records 24/7
Imagine one of your customers asks for a report showing their goods fall within their required AQL standards before shipment. Meanwhile, your accountant wants you to forward invoices for all QC services over the past quarter. And your legal consultant wants to see an inspection report showing your product meets all mandatory labeling requirements.
Sure, maybe you can quickly find all this information in your email inbox or stored locally on your computer somewhere, if you're really organized. But wouldn't it be much easier if you could just log into your online account and access it right away?
Project managers might need to share quality records at a moment's notice with:
Colleagues - such as sharing invoice information with accounting or inspection results with a quality manager
Suppliers and vendors - to discuss results and address any corrective actions needed
Customs officials - to show orders meet legal requirements for import to their market of sale
Customers - to verify an independent third-party inspected the shipment, and the goods meet the customer's requirements
AQF's online quality management system stores all your quality records in one place so you can easily share this important documentation at any time.
Streamline quality record management with AQF Online
You may want to view previous service reports. And some QC companies might require you to request any past report, which they'll then email to you. But it could be a few days before you receive it if the responsible person is unavailable at the time of your request.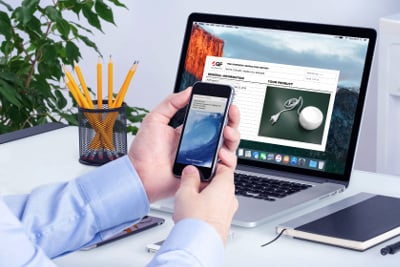 In addition to emailing you the newly completed report after a service, AQF Online gives you access to any past reports from your inspections and audits from anywhere you have an internet connection.
You can also specify who the report should be emailed to at the time of booking, including whether you'd like the report to be sent to your vendor, a factory representative or other colleagues. We'll never release the report to any outside parties without your prior approval.
Plus, you can view and download proforma invoices at any time. AQF Online's dashboard lets you track the costs of inspections and access previous payment information.
You won't be left guessing what you paid for quality control. And you'll be able to control your QC costs easier and plan your budget over time.
Make data-driven supply chain decisions with quality metrics
Effective supply chain management involves more than just tracking your existing operations. Your boss probably expects you to manage supplier risk and make the appropriate purchasing decisions to protect your supply chain.
A good project manager must be able to identify trends in their supply chain and predict upcoming disruptions. Then they must act to prevent or limit these disruptions and actually improve their supply chain for the better.
But it's difficult to improve your supply chain without clear KPIs to track your current quality performance.
Many importers, and even third-party inspection companies, lack the sort of quality metrics needed to spot trends. Some inspection companies operate on a day-by-day basis, providing one-off reports to their clients without much regard for the previous service or the next.
With AQF, you'll never have to wonder where your current quality performance stands in relation to the month or year before. Our online quality management platform will compile relevant quality metrics from all your inspections with AQF in one visual dashboard.
Track these KPIs in AQF's online quality management system
AQF Online collects and segments your quality data from your first service with us onward. There's no minimum service volume necessary to gain access to the data analytics.
Some KPIs you'll be able to track in AQF online include: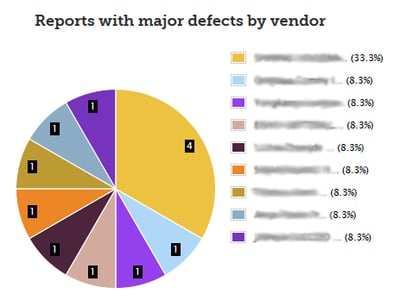 Man days per month: Track your inspection volume and budget over time
Defects by vendor or factory: Track and compare quality performance of individual suppliers
Defects by AQL classification: Track severity of quality issues affecting your products according to AQL classifications
Overall report results: Track overall inspection pass/fail rates of different suppliers and products
And more!
Our quality management platform will display the data to you in both graphical and table format for easy review.
Aside from viewing these metrics in our online system, you can also export the raw data to your local device in spreadsheet format. This lets you manipulate or analyze the data and share the results as you see fit.
Project managers can track supplier performance and anticipate and address risk proactively with these metrics, rather than experiencing sudden disruptions and scrambling to fix them.
It's one thing to simply tell a supplier they need to fix a quality issue and quite another to show them the hard data to back it up. Having this information will strengthen your position with suppliers and help encourage continuous quality improvement in your supply chain.
Conclusion
As a project manager, you're ultimately responsible for the outcome of projects and meeting all the associated deadlines and budget requirements involved in managing orders. And if a project fails, upper management and the various departments involved on the project will look to you for the reason why.
With all this pressure, there's no need to make your job more difficult. That's why we've designed AQF Online to help project managers address their QC concerns and progress toward quality targets.
AQF simplifies quality control in complex supply chains and ultimately alleviates your QC burden so you can focus on more important tasks. And that's something all project managers can get behind.
---
Learn why one quality process project manager likes working with AQF's online quality management system in our case study below!