Learn about the recovery in Chinese manufacturing, Amazon's latest robotics technology and Nike's sustainable footwear collection in this week's roundup.
Best in Manufacturing – June 23, 2020
Each Tuesday, we publish a list of top articles and other content related to manufacturing in areas like quality control, product development, supply chain management, sourcing, auditing and law.
1. Is China leading a recovery in global manufacturing?
According to Caixin China, this country's May Manufacturing Purchasing Managers' Index (PMI) index unexpectedly rose again. From April's 49.4, the index surged to 50.7 in May and hit the highest level since the virus outbreak in January. This indicates expansions in Chinese manufacturing sector.
According to the data, the production is recovering faster than the demand. The rate of production expansion in May was the fastest since January 2011. Aside from the eased virus situation, the Chinese government had also issued some support policies to incentive recovery. For example:
Promote work resumption: collect employee health information and arrange chartered bus or train to carry them back to workplace.

Special support for small and medium business: such business can make applications with banks to defer some repayment.

Strengthen services to foreign business: lower the tariff on self-use equipment imported for foreign investment projects.
However, the demand shrank as total new work dropped. Caixin explained the fall in its joint statement with HIS Markit:
… the fall was largely driven by weaker external demand, as many nations faced strict measures to stop the spread of the pandemic including company closures, leading new export orders to contract at a historically sharp rate.
What's more, Caixin had also warned the weak internal labor market will hold back the recovery as well.
Analysts warn that the recovery might not be a global norm
Although the manufacturing sector in China looks better now, analysts warn that the strong rebound might not happen to other countries. Richard Martin, the managing director of IMA Asia, said the COVID-19 could have multiple waves afterwards and might last through the end of the year. Martin said:
We'll also see a lot of deflation. Not enough demand for goods and massive restructuring in some core industries.
There are two major reasons blocking manufacturers' ways to recovery: the collapse in demand and disruptions in supply chain. The stay-at-home and social distancing policies are putting out people's demands. In the long-term, unemployment in different industries may further affect the demand.
Besides, the sudden pause in manufacturing process and delayed shipments have seriously disrupted the supply chain. This can be even more serious for those regions who have not yet controlled the outbreak.
For manufacturers and manufacturing sectors all over the world, the road to recovery might take years.
Chances in the crisis to re-shape your manufacturing business
It's truth that the COVID-19 has disrupted your manufacturing business. But think on the other side: it can also be an opportunity to re-shape your supply chain. For business who mainly focus on one big manufacturing plant in one country, it might be the high time to diversify.
But moving the entire production line to another place will be really costly and could take a long time. For business who are looking for diversification, the choice might not be leaving China but is expanding from China.
For many manufacturers, manufacturing in Vietnam is as important as manufacturing in China now. Vietnam has a nature geographical advantage that boarders China. This make moving manufacturing equipment easier and cheaper. Vietnam also ranked better than China in terms of ease of doing business index.
For those who in labor-intensive industries, especially garment industry, manufacturing in Bangladesh will be a cost-efficient choice. Just following China and India, Bangladesh has the third-largest labor force in Asia. It will save you lots of efforts to find enough labor force.
What's more, you can consider manufacturing furniture in Malaysia or manufacturing automotive parts in Thailand. But in a nutshell, to understand your needs is the first step of the diversification.
Follow the link below to learn more about why the recovery in Chinese manufacturing can't be a norm globally.
China is seeing a 'V-shaped recovery,' but don't expect that to be the global norm, analyst warns – Eustance Huang, CNBC
2. Amazon is improving its robotics to increase productivity
Amazon robotics technology has always been a major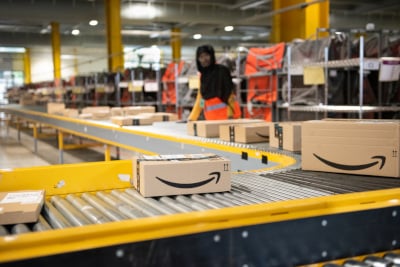 feature of it. Since Amazon acquired Kiva System in 2012, this giant has added more than 200,000 robots in its operations and the units has increased Amazon's building storage capacity by 40 percent.
And lately, Amazon has revealed a new method to further its robotics technology and increase productivity. The new method is about organizing the route for warehouse robots and avoid collisions. It's part of a practice called "Multi-Agent Path Finding" (MAPF).
The new method was generated by Amazon robotics' partnership with University of Southern California. According to a paper published by joint researchers, this method can "keeps the agents continually engaged, avoiding idle time, and increasing throughput".
However, the researchers also mentioned the disadvantages of this method. The new method will need to re-plan at every timestep which is not applicable to all maps. The development team will work on this issue and further increase throughput in the future.
Amazon is strengthening its logistic capacity but expanding air fleet
While improving productivity at end points on the supply chain like warehouses, Amazon is also building faster connections between the them.
On early June, Amazon announced to add 12 more aircrafts to its air fleet by 2021. With the new blood, the company's air fleet will contain 82 airplanes by then. It's just five years since Amazon announced its first aircraft.
What's more, Amazon is focusing more on smaller airports rather than larger ones. Cathy Morrow Roberson, founder of Logistics Trends & Insights, explained that this is because larger airports tend to have worse traffic and harder ground transportation than smaller ones. Those smaller airports can put more emphasis on Amazon's cargo, sort and transport faster.
According to Dave Clark, Amazon's senior vice president of worldwide operations, the company planned to invest $1.5 billion in the Air Hub. This is a huge investment but i pushes Amazon's logistics network and gives Amazon greater control over it.
What are warehouse solutions amid the COVID-19?
Aside from technology like robotics, there are also other warehouse solutions that are improving efficiency. For instance, wearables could emerge as one of the most-efficient warehouse solutions amid the COVID-19 crisis (related: Wearables Could Enhance Safety Measures to Aid Social Distancing Measures).
As portable gadgets that could be easily carry, warehouse employees can wear wearables when working. Then these smart tools can gather the info and detect the distance between each person to avoid close contact.
In view of the fact that the epidemic has not been fully controlled worldwide, the combination of wearable facilities and personal protective equipment will be continuously used for another year, according to an estimation from Forrester analyst.
What's more, drones are now flying in the warehouses to strengthen the supply chain too. Romark Logistics is now partnering with a drone startup FlytBase to deploy inventory drones at warehouses. According to Romark, the company is adding drones to help to fill the worker loss amid the epidemic.
By using drones, Romark can solve challenges like indoor autonomous navigation and automatic barcode scanning. The company can improve the efficiency of inventory counts and mitigate the health risk by liberating workers from touching scanners with hands.
Would you like to know more about how Amazon robots are working? Follow the link below to learn more about Amazon's latest robotics technology.
Amazon studies anti-collision method for robots to increase throughput – Matt Leonard, Supply Chain Dive
3. Nike launched a new sustainability-driven footwear collection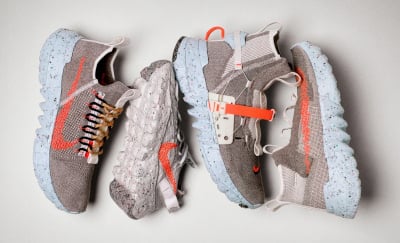 The pursuit of sustainability has driven business to use "greener" raw material or recycled material for the products. Big brands are listing sustainability as their new goals. Recently, sports giant Nike announced to launch its latest sustainable footwear collection on July 3rd.
Nike's new collection is called Space Hippie. According to its website, it was inspired by the life on Mars, a place with rare material and no re-supply. There's no new technology in the new collection, but only material that was headed for a landfill.
Nike is proud of Space Hippie and describes it as its "most forward-thinking footwear collection". The Space Hippie is Nike's lowest carbon footprint scores ever. It will also contribute to Nike's Move to Zero initiative.
Nike will release the Space Hippie collection on Nike's SNKRS and SNEAKERS apps. The collection will also be available at select Nike shops and retail partners.
The recycle material that Nike use is more "visualize" and more sustainable
Unlike other products who might avoid showing its recycled material, Space Hippie aims to make the material visually appealing. Nike want the consumers to be aware of it using recycled material and to like the way the collection looks.
Noah Murphy-Reinhertz, innovation sustainability design lead at Nike, said to Highsnobiety:
We're going to have numbers on this that we're really proud of, but it's not going to be the thing that pulls people into the product. It's going to be how they look. You can immediately see that there's something different [about the collection].
The knitted material on the uppers of the four shoes in the Space Hippie collection are made from 100 percent recycled material. One significant point is that the knitted material is made by a process called flyknit.
Flyknit is a really low waste process that simply shredded recycled material like discarded T-shirts, textile scraps and then twisted them together. Compared to typical process that melt things and re-extrude them, flyknit can reduce 70 percent of the carbon footprint.
What's more, the ZoomX foam that Nike use on the inside of the shoes is made from fully recycled material. This makes Space Hippie collection even more sustainable than other eco-friendly products.
The COVID-19 has worsened the plastic waste crisis
Plastic waste has become an increasing problem for many countries. Plastic waste on the beach and in the garbage-processing plant has seriously affected the ecological environment and residents' health. What's worse, it seems like the COVID-19 has make the situation even harder.
There are three major reasons that might have contributed to this:
More deliveries

: Due to the staying-at-home policy, much less people are going out. But people are ordering more food deliveries and online orders to meet daily needs. The

plastic containers and wrapping material are mostly plastic and this resulted in more plastic waste.

Less attention: Since most of the eyes are on the epidemic, few people would care about the disposal of plastic waste during this time. With less attention, some would handle the plastic waste in easier but wrong way. Such behave can cause secondary pollution.

Wider spread: With the current, plastic waste in the ocean will spread to more locations and post a long-term impact on ecosystem.
To solve the plastic wastes problems and save our planet, all parties should make efforts to reduce plastic waste. Countries are launching policies and companies are improving plastic-related processes. In the future, more recycled material will be used in products.
Follow the link below to learn more about Nike's "most-forward thinking" sustainable footwear collection.
Nike's Space Hippie Line Is a Giant Leap for Sustainability — but the Best Is Yet to Come – Peter Verry, Footwear News
---
We're constantly scanning the web for top manufacturing stories and news. If you'd like to submit an article for consideration for our weekly Best in Manufacturing, send us a message and let us know