Learn about China's fashion manufacturing, Dove's bottles made by recycled plastic and how big retailers are using green energy in this week's roundup.
Best in Manufacturing – November 10, 2019
Each Sunday, we publish a list of top articles and other content related to manufacturing in areas like quality control, product development, supply chain management, sourcing, auditing and law.
1. Some fashion manufacturers are leaving China—but not all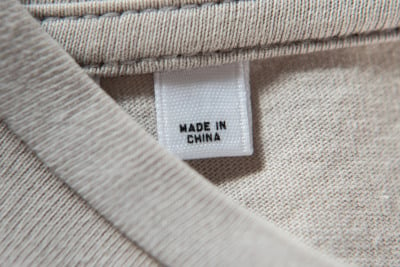 China has become a major manufacturing hub for fashion brands. The country remained the largest clothing exporter in the world in 2018. But with the U.S.-China trade war escalating, brands that traditionally manufactured in China are now relocating.
Thom Baker, global creative director at Champion, said:
Tariffs are landing on footwear, and it's going to affect the whole category. …People have been moving out of China for a long time, going to Taiwan and now Vietnam. People have been looking at lower-cost sources.
Fast fashion and high fashion brands are leaving China. They would like to manufacturer in non-tariffed countries to control prices and improve their margins. And Southeast Asia is now the popular choice for fashion manufacturing's relocation.
For example, Bangladesh has much lower labor costs than China and Vietnam has relatively lower tariffs on garment exports. Because of brands relocating en masse, Bangladesh saw a rise in its sales overseas from $29 billion in 2017 to more than $40 billion. Also benefitting from importers leaving China, Vietnam's textile and garment exports grew 14.5 percent in July.
But manufacturing outside China doesn't mean a total relief. Manufacturing outside China might encounter a skilled labor shortage (see #3). Unskilled labor could lead to production delays and shoddy products.
Additionally, other Asian manufacturing countries' infrastructure is not as advanced as China's. Bad infrastructure could cause shipping delays and significantly affect supply chains.
Some brands remain with their suppliers in China
But under the trend of relocating from China, some brands still believe that it's worthwhile to manufacture in China. They stick with their Chinese partners even when costs are increasing. Some brands remain in China for the high-quality manufacturing here.
Jessy Dover, founder of handbag brand Dagne Dover, said the quality of her product is always the priority. She will keep supporting her Chinese partners and adapt with them through economic changes, especially since she relies on them for their unique skillset and production abilities:
Different types of products require different types of specialists and craftsmen, so location can be dictated by that in some circumstances.
Some fashion brands remain in China for the high relocating fee. Relocating means moving the existing production lines away to find a new factory with qualified labor elsewhere. Sourcing raw materials in a new place could also cause headaches.
Megan Stoneburner, the director of sourcing and sustainability at Outerknown, said her brand will be struggling to meet sustainability requirements outside China.
Megan's team must visit every facility, see all the materials and know where they come from to maintain their sustainability program. If her brand moves from China, she will have to send people around the world to sample the products and make sure they are meeting the brand's standard. Megan said that strategy would be difficult, and as a result her brand will keep manufacturing in China for now.
How to manage garment quality when manufacturing outside China?
If you are an importer that manufactures your products in China, you might also be considering leaving China. But when you ponder other sourcing alternatives in Asia, the first thing that comes to you should be quality control.
The "Made-in-China" label no longer represents low product quality. On the contrary, many high-quality goods are made in China today. But how to manage garment quality when manufacturing outside China?
Here are three ways for you to manage garment quality even if your manufacturing is outside China (related: 3 Ways to Manage Garment Quality Control):
Set clear tolerances for measurements. You can specify each point of measurement in a sheet for better reference.
Conduct on-site testing during inspection. On-site testing like the crocking test and stretch test can help ensure your product's durability and functionality.
Use lab testing to further control garment quality. A professional-grade lab can test fabrics or garments according to your specific requests. You can learn about the composition, the dimensional stability, colorfastness and other factors that affect garment quality.
The last thing you want to see is customers returning clothing because of quality issues.. In order to preserve quality amidst the trade war, it's a good idea to adhere to quality control best practices like those mentioned above.
Follow the link below to learn more why not all fashion brands are leaving China.
'Everyone's getting out of China': How tariffs are changing fashion's manufacturing landscape – Danny Parisi, Glossy
2. Dove is switching to 100 percent recycled plastic bottles
Personal care brand Dove recently pledged to be more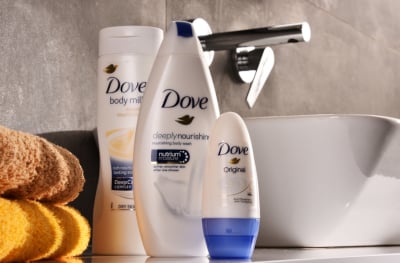 sustainable. Dove will gradually move from virgin plastic packaging and sell its shower gel, shampoo and other products in 100 percent recycled plastic bottles. The change will start by the end of this year.
Under the move, all plastic bottles in the company's Dove, Dove Men + Care, and Dove Baby lines will gradually shift to 100 percent recycled plastic. As one of the largest beauty brands in the world, Dove's effort for greater sustainability will reduce its use of virgin plastic by more than 20,000 tons a year.
Dove is also the founding member of Loop, a sustainable platform that sell products made from reused plastic. The company is now testing a stainless steel holder that can help to minimize the amount of plastic required.
However, Dove hasn't decided to eliminate plastic entirely. The brand still need plastic to protect the shelf life of its products.
Unilever to halve plastic use by 2025
Dove's decision for more sustainable packaging follows its parent company, Unilever. In October, consumer goods giant Unilever committed to halve its use of new plastic by 2025. Alan Jope, the CEO of Unilever, said Unilever will rethink the company's approach of packaging and products:
It requires us to introduce new and innovative materials, and scale up new business models, like reuse and refill formats, at an unprecedented speed and intensity.
In 2018, Unilever used around 720,000 tons of plastic. Under its new commitment, the company will use no more than 350,000 tons of new plastic each year from 2025.
Regarding its sustainable commitment, Unilever will also offer more reusable and refillable packaging. The company will use more recycled plastic in its packaging and sell some "naked," or unwrapped, products.
Moreover, Unilever is learning how to recycle. This giant is working to ensure that more of the plastic that it does use is recycled. The company said it wants to collect and process more plastic packaging than it sells by 2025.
Be sustainable by giving plastic waste a second life
The world is now going through the plastic waste trade war 3.0 (related: China's Trade War Choice: Airbus Or Boeing? see #2). In light of this problem, customers nowadays are placing more weight on on sustainable products. Eco-friendly products have a better chance at winning customers' hearts.
Whether you are an importer or manufacturer, you can give plastic waste a second life and achieve more sustainability. Here are some suggestions on how to do that:
Find viable replacements of plastic. Can you use other eco-friendly materials to replace the use of plastic in your products?
Find viable opportunities to replace virgin plastic. Instead of virgin plastic, you can use recycled plastic in different parts of your packaging. By using recycled plastic, your products can be more easily recycled and remain useful in their "second life".
Find substitutions for highly-toxic plastics. This suggestion is especially useful for non-recoverable plastics: There are more than 43,000 types of plastics. Can you use an easier-to-recycle plastic instead?
Follow the link below to learn more about how Dove is switching to 100 percent recycled plastic bottles.
Dove is redesigning its packaging to use way more recycled plastic – Adele Peters, Fast Company
3. Big retailers are using green energy to power procurement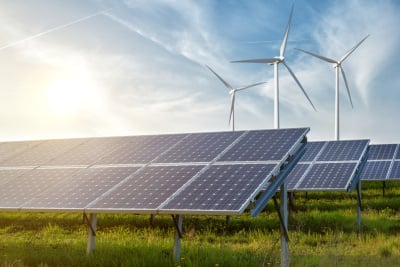 Green energy is energy that is collected from renewable resources and can naturally replenish. It's a sustainable choice to replace the use of finite resources (like fossil fuels). As people pay more attention to environmental protection, more brands are using green energy to achieve sustainability.
Retail giant Amazon recently began to build and supply renewable energy projects to power its operations. Amazon is now partnering with green energy company ScottishPower to build a wind farm with 14 Vestas turbines in Scotland.
According to ScottishPower, the energy that the new wind farm provides Amazon is the equivalent of powering 46,000 British households. Amazon has also announced three more green energy projects in October to further achieve its sustainability goal.
Amazon is now one of the biggest green energy users in the U.S. About 40 percent of the energy that the company uses now is from renewable energy. Amazon expects to expand the number to 80 percent by 2024 and finally reach 100 percent green energy usage by 2030.
Tesco follows Amazon to beef up green power procurement efforts
Supermarket giant Tesco has already gained some success on the road to sustainable development. In late October, Tesco reached a major green energy goal and is now installing solar panels at its stores. And following Amazon, Tesco beefed up a green energy project recently.
Tesco's new sustainability project includes a solar farm and five onshore wind farms. Tesco has signed three power purchase agreements with green energy provider EDF Renewables. EDF will provide Tesco 60 megawatts (MW) of energy with 17 roof mounted solar installations.
Additionally, Tesco is partnering with ScottishPower to build wind farms in Scotland. This wind farm will be powered by 15 Vestas turbines and can generate 30MW of energy. The wind farm will significantly help Tesco to achieve its green energy goals.
The green energy projects that Tesco is carrying on will help Tesco limit its carbon footprint by saving 90,000 tons of CO2 per year. Jason Tarry of Tesco UK said that the project represented a "major milestone" in the company's plans to use 100 percent renewable electricity by 2030:
Our supply chain and long-term business sustainability depend on the health of the natural environment. Our customers and colleagues expect Tesco to play its part in caring for the planet.
Other sustainability practices other brands are adopting
Green energy is increasingly becoming the lowest cost option. Over the last six years, the cost of green energy like wind and solar came down 60 percent and 80 percent. This has pushed more brands to green energy.
In 2017, technology giant Google reached a major sustainability milestone. The company successfully reached 100 percent green energy usage to match its annual electricity consumption for global operations.
In October 2019, Google announced its largest package of renewable energy deals. The package includes 18 deals in the U.S., Chile and Europe and can generate 1600MW in total. Google will invest about two billion in new energy infrastructure.
Meanwhile, sports giant Nike is turning to 100 percent renewable energy in its new distribution center (related: Cambodia Raises Workers' Wages for Fear of Losing EBA Status see #3).
Nike's new sustainable distribution center is called the Court. The Court will rely entirely on wind, solar, geothermal, hydroelectric and biomass power for operation. It's the latest milestone in the company's move to achieve zero carbon emission by 2025.
Renewable energy is the backbone of many brands and companies that want to be sustainable. In the future, more businesses will adopt sustainability practices and limit their carbon emissions.
Are you doing anything to limit your business's impact on the environment? Let us know in the comments section!
Follow the link below to learn more about Amazon and Tesco's green energy plan.
Tesco and Amazon lead latest green energy procurement push – Toby Hill, Business Green
---
We're constantly scanning the web for top manufacturing stories and news. If you'd like to submit an article for consideration for our weekly Best in Manufacturing, send us a message and let us know.